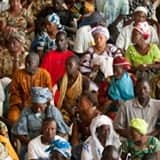 How do you cope when 4,300 people turn up on your doorstep desperate for help?
On Sunday 2 Sept 2012 hundreds began queueing at the People's Palace in Conakry, Guinea, before Mercy Ships had even opened their doors. On Screening Day, Monday 3 September 2012, more than 4,300 people waited through showers and sunshine hoping for help from Mercy Ships medical staff to alleviate their extreme medical conditions – grotesque tumours, disfiguring burns, blinding cataracts, twisted limbs, war wounds and worse.
So how do you handle or even help people in such a seemingly impossible situation? Medical professionals like Rachel Burton from Nelson donate their skill and time to bring hope and healing for FREE [yup – you read it right – they pay their own way and do this for nothing to help the poor]. Over 200 patients were scheduled for surgery within a week, with nearly 1,000 others scheduled for help in the months to come. Here's a glimpse of what a Screening Day is like when Mercy Ships visited Togo in 2010.
http://youtu.be/mBNo4slOz40
How about helping and bringing hope to people like this? Maybe you're not a doctor or a nurse or a medical professional like Rachel, but you do have a wallet! So how about helping the people who lined up in Guinea hoping for a chance for healing and wholeness – head over here to donate to Mercy Ships or find out more.
I personally give to Mercy Ships so I'm not asking you to do something I don't already do. I believe so much in them I'm also their sole New Zealand Affiliate Artist and I wrote Hope On My Horizon for them [you can get it free with my Backstage Pass here]. I'll also be donating some profits from my upcoming album to help them.
They really do incredible things in people's lives and are leaders in the world by taking the solution right to the doorstep of the sick . They're endorsed and recognised worldwide by people like Nelson Mandela, Desmond Tutu, Tony Blair, Larry King … and of course me :p.
Join me, Nelson, Desmond, Tony and Larry and bring hope and healing to the world's forgotten poor.
Pete