Amy's a Kiwi friend of mine – here's her story from her time onboard Mercy Ships …
When Amy arrived for the first day of her new job she knew it wasn't going to be like any other job she'd ever had.  More than 3,500 people queued patiently in the hot sun, waiting to be seen by a doctor, hoping for a miracle.
The Auckland nurse was part of the volunteer crew aboard Mercy Ships hospital ship in West Africa. For the crew beginning the 2012 field service in Togo, the necessary screening process for hopeful patients is gruelling; emotionally, physically, spiritually, for all concerned. Sandwiches and water are passed out to injured and disabled people waiting in the hot sun in impossibly long lines for their turn to be medically assessed inside the sports stadium. Once inside surgeons examine, blood tests are done and patient I.D. photos are taken. Hugs and kind touches reassure frightened people who have often been physically isolated by their horrendous conditions for years that someone cares and hope is on the way!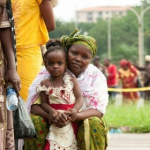 Amy was deeply impacted by all that her role that day demanded. "I felt very privileged to be part of the screening process, but I was very nervous. Thousands of people lined up in the hope of being booked in for a life changing operation. People often line up for headaches or stomach aches, which is not our area of focus. Nurses scanned the line and were able to dismiss people that we knew we could not help. The local police came to assist with security. Only 1,600 made it through the gate into the stadium for further screening. I saw some pretty crazy things."
Togo's poor suffering from debilitating conditions like cataracts, club feet, cleft lip, life-threatening yet benign tumours, burn contractures, and obstetric fistulas are offered free surgeries  onboard the  Africa Mercy.
Amy was assigned to the 'History Taking' station. "People came here after pre-screening and registration. It was so interesting asking questions and getting to know these individuals. The ladies would buckle over with laughter when I asked them if they smoked.  Only men smoke in Togo. This is just a small example of a cultural difference I wasn't aware of. I had my own translator who was amazing. He spoke five languages including French, English and Ewe (the local Togolese language). He was refusing breaks when I was nearly on the ground with exhaustion. We noted down their medical history, took their vital signs, and then sent them on to see the surgeons."
"The highlight of my day was holding the hand of a 25 year old lady who required Obstetric Fistula surgery after a birth injury left her incontinent. Socially, 90% of woman suffering Obstetric Fistulas are rejected by their husbands and society. I just wanted to hold her hand, look into her eyes and let her know how loved she was and still is. It made my day to have the opportunity to do that."
Mercy Ships NZ follows the 2000-year-old model of Jesus, bringing hope and healing to the world's forgotten poor. A global charity that has operated hospital ships in developing nations since 1978, Mercy Ships brings hope and healing to the forgotten poor by mobilizing people and resources worldwide, and serving all people without regard for race, gender, or religion.Volunteer professional crew offer their services free of charge.
Mercy Ships, a faith-base not-for-profit NGO, operates a 16,000 tonne hospital ship which provides free medical surgeries for the poorest nations of the earth. Staffed by volunteer doctors, dentists, nurses and other health care and maritime professionals, the Africa Mercy provides life-saving surgery for thousands of patients each year. More info is available here.