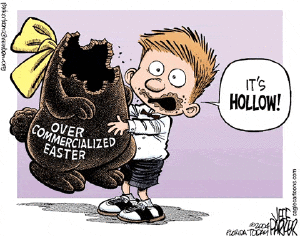 Easter is almost upon us and you know what it's all about right? Chocolate and bunny rabbits …
But Christians like me will tell you different. When the first Easter happened (it was actually at a time called Passover) it was filled with everything we get in a gritty Hollywood blockbuster story … friendship, loyalty, envy, betrayal, hate, love, passion, murder and the impossible return of the hero when all is lost.
Have you ever wondered how Easter would have played out in your Twitter feed instead of trying to understand those cryptic stained glass windows or oil paintings? Watch this five minute video of the first Easter complete with hashtags and Twitter handles …
Here's my take on this:
For me Easter is more than a Twitter feed, or a historian's records, or a Biblical account – it's remembering a collision of all of our troubles and turmoil, our mistakes and misgivings resolved by God in one fell swoop.
The Real Deal – before Jesus arrived on the scene God had outlined how he was going to resolve the differences between Him and us by sending the 'Messiah', from the Hebrew word mashiach, which means "anointed one" or "chosen one" – imagine the ultimate super hero who saves everyone for all time, and sorts out our sin that's getting in the way between us and God.
God's Checklist – God made us, so He's the One who made us skeptical of people, including when the Messiah really is the Messiah. We can't just have any Ordinary Joe proclaiming he's the Messiah and messing with people's lives right?!?!?! That's why God provided requirements and specifications to be met by a 'Messiah candidate' so we could know we weren't being duped. I believe Jesus fulfilled those Biblical requirements and prophecies meeting the measurement of 'Messiah'.
Chocolate Eggs and Bunny Rabbits – so what's that got to do with the chocolate eggs and bunny rabbits filling our world at Easter?  Nothing …. kind of – before you throw away that chocolate egg that you've got in your hand hang in with me for a second … Easter commemorates the death and resurrection of Jesus which form the central events of the Christian faith. As with all things human, there were debates about the best way and the best time to celebrate Easter after it occurred on that first Jewish Passover, because Passover could fall on any day of the week, so Christians wanted it locked and loaded on a Sunday and it was matched to the first Sunday following the full moon after the vernal equinox (first day of spring in the northern hemisphere). This also aligned to the pagan spring festivals which celebrate fertility, life, death and rebirth. In the end, the Easter bunny and chocolate Easter eggs have nothing to do with Jesus directly. There is nothing in the Bible or Christian tradition that links the two together. Yet still, the "pagan" associations that eggs and rabbits have with life, death, and rebirth remain near enough to find expression alongside Jesus conquering death and coming back to life to provide the link.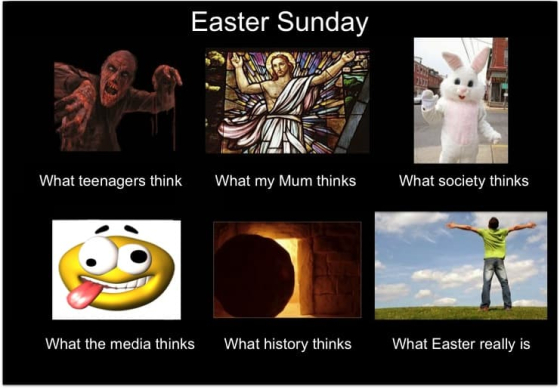 So celebrate with me by grabbing a chocolate Easter egg (unless you're still holding that one from earlier on) and reflect how these delectable delicacies remind us of death, new life and deliverance – the second chance we've all been given through Jesus' death and resurrection to get back together with God and wipe out the barriers and separation that was between us. It's fair to say Easter once saved the world – once and for all time. Chew on that and comment below 😀